Sistema de Comunicaciones Unificadas HD
VX400E es un sistema de comunicaciones unificadas de ultima generación ideal para empresas Medianas y Grandes. Cuenta con Calidad de Voz HD, escalable Hasta 4000 Internos y 8 Tramas E1, con funcionalidades adicionales como Fax a PDF,Comunicaciones Audio/Video, Follow Me,Grabación de llamadas, Escuchas, VoiceMail ,Comunicaciones seguras por VPN, Mensajería Instantánea, Agenda Unificada, InterConexión con Sucursales e Internos Remotos vía Internet
VX400E esta basada en Asterisk y es una central telefónica administrable 100% via Web con una interfaz sumamente simple e intuitiva.
Cuenta con numerosas ventajas con respecto a otras centrales basadas en Asterisk entre las que se pueden destacar:
Seguridad ante Hackers
Mayor Estabilidad
Mejor Performance
Mayor Redimiendo y confiabilidad
Interfaz gráfica Simple e Intuitiva y Panel Avanzado de Operadora / Administración
Esquema General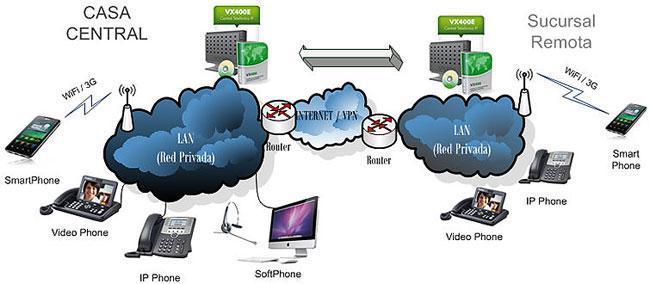 Funcionalidades Destacadas
Internos Remotos (SoftPhones, SmartPhones, etc)
Interconexion transparente de Centrales VX400E en diferentes sucursales
Grabacion de llamadas
Centro de Conferencias con Salas Virtuales
Correo de Voz
Soporte para protocolos SIP e IAX, entre otros
Correo de voz-a-Email
Codecs soportados: ADPCM, G.711 (A-Law & μ-Law), G.722, G.723.1 (pass through), G.726, G.729, GSM, iLBC (opcional) entre otros.
IVR Configurable y Flexible
Soporte para Interfaces Análogas como FXS/FXO (PSTN/POTS)
Soporte para Sintetización de Voz
Soporte para interfaces digitales E1/T1/J1 a través de los protocolos PRI/BRI/R2
Herramienta para la creación de extensiones por lote
Identificación de llamadas (Caller ID)
Cancelador de eco integrado
Troncalización
Rutas entrantes y salientes con configuración por coincidencia de patrones de marcado
Soporte para videotelefonos
Soporte para follow-me
Interfaz de detección de Hardware
Soporte para grupos de timbrado
Servidor DHCP para asignación dinámica de Ips
Soporte para paging e intercom
Panel de Operador basado en Web
Soporte para condiciones de tiempo
Parqueo de llamadas
Soporte para PINes de seguridad
Reporte de detalle de llamadas (CDR)
Soporte para DISA (Direct Inward System Access)
Tarifación con reporte de consumo por destino
Soporte para Callback
Reportes de uso de canales
Soporte para interfaces tipo bluetooth a través de teléfonos celulares (chan_mobile)
Soporte para colas de llamadas
Interfaz Web Grafica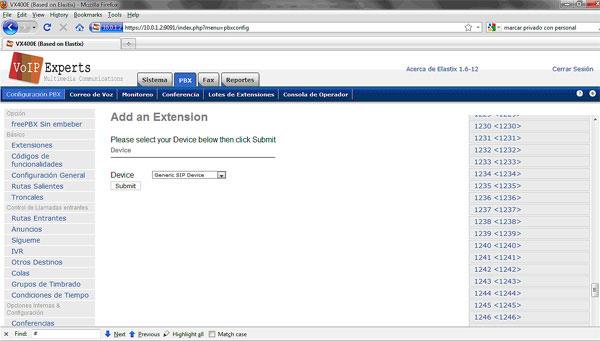 Detalle de Funcionalidades
Call Features

-ADSI On-Screen Menu System
-Alarm Receiver
-Append Message
-Authentication
-Automated Attendant
-Blacklists
-Blind Transfer
-Call Detail Records
-Call Forward on Busy
-Call Forward on No Answer
-Call Forward Variable
-Call Monitoring
-Call Parking
-Call Queuing
-Call Recording
-Call Retrieval
-Call Routing (DID & ANI)
-Call Snooping
-Call Transfer
-Call Waiting
-Caller ID
-Caller ID Blocking
-Caller ID on Call Waiting
-Calling Cards
-Conference Bridging
-Database Store / Retrieve
-Database Integration
-Dial by Name
-Direct Inward System Access
-Distinctive Ring
-Distributed Universal Number Discovery (DUNDi™)
-Do Not Disturb
-E911
-ENUM
-Fax Transmit and Receive
-Flexible Extension Logic
-Interactive Directory Listing
-Interactive Voice Response (IVR)
-Local and Remote Call Agents
-Macros
-Music On Hold
-Music On Transfer:
Flexible Mp3-based System
-Random or Linear Play
- Volume Control
-Predictive Dialer
-Privacy
-Open Settlement Protocol (OSP)
-Overhead Paging
-Protocol Conversion
-Remote Call Pickup
-Remote Office Support
-Roaming Extensions
-Route by Caller ID
-SMS Messaging
-Spell / Say
-Streaming Media Access
-Supervised Transfer
-Talk Detection
-Text-to-Speech (via Festival)
-Three-way Calling
-Time and Date
-Transcoding
-Trunking
-VoIP Gateways
-Voicemail:
-Visual Indicator for Message Waiting
-Stutter Dialtone for Message Waiting
-Voicemail to email
-Voicemail Groups
-Web Voicemail Interface
-Zapateller

Scalability

-TDMoE (Time Division Multiplex over Ethernet)
-Allows direct connection of Asterisk PBX
-Zero latency
-Uses commodity Ethernet hardware
-Voice-over IP
-Allows for integration of physically separate installations
-Uses commonly deployed data connections
-Allows a unified dialplan across multiple offices


Codecs

-ADPCM
-G.711 (A-Law & μ-Law)
-G.722
-G.722.1 licensed from Polycom®
-G.722.1 Annex C licensed from Polycom®
-G.723.1 (pass through)
-G.726
-G.729a (Licencia no incluida)
-GSM
-iLBC
-Linear
-LPC-10
-Speex


VoIP Protocols

-SIP
-Google Talk
-H.323
-IAX™ (Inter-Asterisk eXchange)
-Jingle/XMPP
-MGCP (Media Gateway Control Protocol
-SCCP (Cisco® Skinny®) SIP (Session Initiation Protocol)
-UNIStim


Traditional Telephony Protocols

-E&M
-E&M Wink
-Feature Group D
-FXS
-FXO
-GR-303
-Loopstart
-Groundstart
-Kewlstart
-MF and DTMF support
-Robbed-bit Signaling (RBS) Types
-MFC-R2


ISDN Protocols

-AT&T 4ESS
-EuroISDN PRI and BRI
-Lucent 5ESS
-National ISDN 1
-National ISDN 2
-NFAS
-Nortel DMS100
-Q.SIG
Solucion Llave en Mano
La Central Telefonica de ultima generacion VX400E se ofrece Llave en Mano, incluyendo los siguientes servicios:
Instalación, configuración y Fine Tuning de solución de telefonía IP (VX400E ) incluyendo:
Central Telefónica IP Basada en Asterisk
Configuración de Gateways, Teléfonos IP y Tramas Digitales
Configuración de todos los switches que componen la LAN
Las tareas a ser realizadas contempladas en el presente presupuesto se listan a continuación:
Central IP
Configuración y puesta en producción de Tramas E1 y placas de Telefonía
Configuración Pre-Atendedores, Colas de Espera, Internos, Troncales IP, etc.
Configuración Planes de Rutas
Configuración Troncales
Configuración Firewall, VPN Administración, DHCP, TFTP, NTP
Implementación y configuración provisioning automático Teléfonos IP para configuración centralizada y automatizada
Gateways
Instalación, Configuración y Fine Tunning Gateways FXS/FXO
Instalación, Configuración y Fine Tunning Gateways VoIP / GSM
Telefonos IP
Diseño e implementación configuración optima para los teléfonos a ser implementados (Valores QOS, VLAN, etc)
Diseño e implementación plan de discado
Auto-Provisioning Centralizado
Networking
Diseño Arquitectura de Networking para VoIP
Configuración Switches Administrables
Creación de VLANs
Implementación de QoS
Administración POE
Configuración Core Switches

Módulos / Personalizaciones Opcionales
Una vez instalada la solución básica, puede ser personalizada a medida o bien se le pueden instalar los diversos módulos:
VX400E CCE: Sistema Integral para Call Centers Entrantes / Salientes con CRM, Discador Predictivo / Progresivo de llamadas, Screen Pop Up de información de la llamada con la que se conecta cada agente, Grabación de Llamadas, Intervención de líneas en Vivo, Estadísticas de Agentes, Campanas, etc.
IVR para autorización de tarjetas de crédito, adaptable para trabajar en conjunto con la base de datos y el sistema que ya tenga el cliente operativo.
Fax Server para recibir los faxes en forma centralizada y enviarlos por mail u otro método a quien corresponda en formato pdf.
IVR para consulta de deudas, vencimientos, promociones, encuestas, etc.
Web2Call / Click2Call
TMS (TeleMarketingSurvey) Software para telemarketing y encuestas telefónicas con capacidad para almacenar hasta 10 respuestas a preguntas en árbol.